Perugia
LW109
Inspired by the framing of mosaics in Ravenna, Italy; an artisan-crafted "cage" houses the integral LED lamping, leading up to a canopy for pleasing light ventilation. This simple statement piece is the perfect accent to an interior's decor and pairs perfectly with the Ravenna or Reggio ceiling fixture.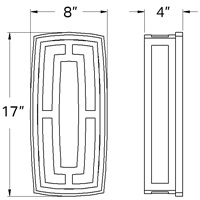 DIMENSIONS:
Height: 17" x Width: 8" x Depth: 4"
---
FEATURES:
- LED 0-10V Dimming Driver
- Opal Matte Acrylic

---
DRIVER:
120/277
---
MOUNTING:
Mounts to all standard electrical junction boxes (by others) with hardware provided.
---
RATING:
UL Listed
FINISHES:
SB Satin Brass
SA Satin Aluminum
PT Painted Finish (Specify Color Code from Chart Below)
| | |
| --- | --- |
| LHG London House Gray | LGB Light Gray Blue |
| OSB Oxford Stone Brown | SGB Stony Ground Bone |
| SBL Satin Black | SWH Satin White |
---
LAMPING:
L18-30K 18 Watt LED 3000 Kelvin, 2400 Lumens
L18-35K 18 Watt LED 3500 Kelvin, 2400 Lumens
L18-40K 18 Watt LED 4000 Kelvin, 2400 Lumens

---
ADDITIONAL OPTIONS:
EML Emergency Battery Pack with LED Lighting (Remote)

CUT SHEET

CUSTOMIZE