Fisarmonica
LH100
Inspired by the shape of bellows on a traditional Italian accordion, the designer strived to create a versatile but distinctly shaped pendant. The combination of acrylic and metal ensure a polished and timeless look, suitable for a variety of interiors.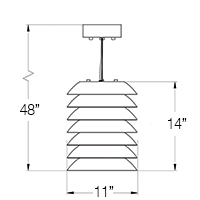 DIMENSIONS:
Overall Height: 48" x Height: 14" x Diameter: 11"
---
FEATURES:
- Opal Matte Acrylic
- Spun Aluminum Discs
- Clear Silver Braided Cord
- Adjustable Aircraft Cables
- Internal Driver
- LED 0-10V Dimming Driver

---
DRIVER:
120/277
---
MOUNTING:
Mounts to all standard electrical junction boxes (by others) with hardware provided.
---
RATING:
UL Listed
FINISHES:
SA Satin Aluminum
PT Painted Finish (Specify Color Code from Chart Below)
| | |
| --- | --- |
| LHG London House Gray | LGB Light Gray Blue |
| OSB Oxford Stone Brown | SGB Stony Ground Bone |
| SBL Satin Black | SWH Satin White |
---
LAMPING:
L24-30K 24 Watt LED 3000 Kelvin, 3200 Lumens
L24-35K 24 Watt LED 3500 Kelvin, 3200 Lumens
L24-40K 24 Watt LED 4000 Kelvin, 3200 Lumens

---
ADDITIONAL OPTIONS:
EML Emergency Battery Pack with LED Lighting (Remote)

CUT SHEET

CUSTOMIZE