Catania II
LH108-2
The designer simplified common shapes from Rococo and Baroque architecture, to create the perfect blend of classical and contemporary design. The truly unique fixture features a hand blown glass wheel that rests on a polished chrome stem attached to a canopy.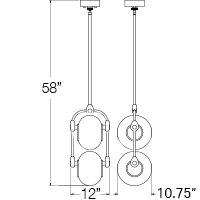 DIMENSIONS:
Height: 58" x Width: 12" x Depth: 10.75"
---
FEATURES:
- Opal Matte Glass
- LED 0-10V Dimming Driver

---
DRIVER:
120/277
---
MOUNTING:
Mounts to all standard electrical junction boxes (by others) with hardware provided.
---
RATING:
UL Listed
FINISHES:
SN Satin Nickel
SA Satin Aluminum
PT Painted Finish (Specify Color Code from Chart Below)
| | |
| --- | --- |
| LHG London House Gray | LGB Light Gray Blue |
| OSB Oxford Stone Brown | SGB Stony Ground Bone |
| SBL Satin Black | SWH Satin White |
---
LAMPING:
L12-30K 12 Watt LED 3000 Kelvin, 1600 Lumens
L12-35K 12 Watt LED 3500 Kelvin, 1600 Lumens
L12-40K 12 Watt LED 4000 Kelvin, 1600 Lumens

---
ADDITIONAL OPTIONS:
EML Emergency Battery Pack with LED Lighting (Remote)

CUT SHEET

CUSTOMIZE